Fantastic rides, the world renowned cuisine of Piedmont and a little spa oasis

The Piedmont (Latin: pedem montium' at the foot of the mountains) is a laid back province of Italy. Situated close to the Swiss and French border, it is a region that is renowned both for excellent ski touring and powder snow as well as for its culinary delights. This is the birthplace of the Slow Food movement; its cuisine is high class yet rustic and alpine, it has no tolerance for rushing things. The village of Sambuco in Valle Stura is surrounded by mountains that soar above 3.000 m. There is no rush up here either.
Date: 30 January to 4 February 2022
Price: € 1.175,-
Included: 6 ski tours with mountain guide, half board accommodation at the Spa Hotel Osteria della Pace in double rooms, local transport (taxi, bus). Not included: Transport to location. Join other group members in Innsbruck to reduce the environmental impact.
Ski Touring in Valle Stura, Piedmont (photos)
Valle Stura Ski Tours
The skiing terrain of Valle Stura is wide open and provides plenty of space for everyone to draw their dream line into the snow. The side valleys are particularly quiet and deserted. A perfect place to get away from it all. Hiking times on our tours in the Maritime Alps are typically around 3 to 4 hours with vertical gains of up to 1.200 m.
Day 1: Departure from Innsbruck at 12:00h for shared rides or individual travel (we meet in Sambuco at 19:00h)
Day 2: Acclimatization in the ski area of Bersezio, including some freeriding and a short warm-up tour with little vertical gain
Day 3: Ski tour from Larche to Tete de Fer, "Versant N" (1.200 vertical meters)
Day 4: Ski tour from Argentera to Cima (Gias) delle Lose, "Vallon Nord" (1.100 vertical meters)
Day 5: From Larche to Tete de Plate Longe, "Versant NE" (1.100 vertical meters)
Day 6: Ski tour from Colle della Maddalena to Cima delle Manse (Villadel) and back via Bec du Lievre (1.200 vertical meters)
Day 7: homeward journey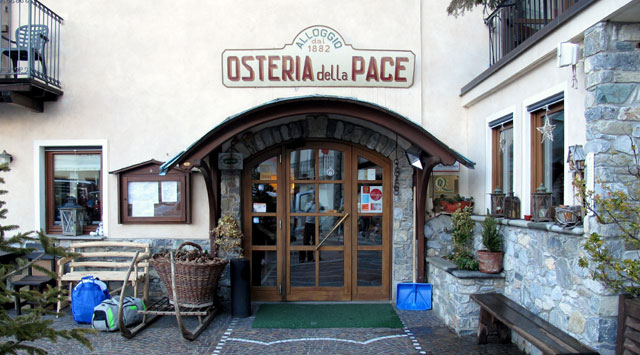 WE are based at the Osteria della Pace in the sunny village of Sambuco at 1.185 m above sea level at the foot of Monte Bersaio. The owner, Bartolo, understands and interprets the local cuisine like no other – his Osteria is one of the few businesses in the valley that caters to tourists and like all other locals he only uses regional organic products. Piedmont cuisine is one of the most interesting in Italy, all ingredients are fresh from the region, as required by tradition and local pride. Every day starts with a hearty buffet style breakfast. In the evenings, signore Bartolo will serve home-made pasta, lardo, bacon, cheese, porcini, truffles, meat and famous regional wines such as Barolo, Barbera and Barbaresco, all made from Nebbiolo grapes.
Spa: After our ski tours we can enjoy the spa facilities of the Centro del Benessere with Finnish sauna, hay sauna, steam bath, relaxation room, grotto and cold water shower.